Our Services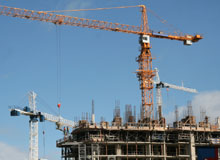 Award Consulting have a successful track record in providing traditional Quantity Surveying, Cost Management and Dispute Resolution Services for contractors, developers, property owners, construction consultants and subcontractors across the construction industry throughout the United Kingdom.
Award Consulting offers a complete service; ranging from financial and contractual control and management of construction projects to the resolution of disputes, preparation of, or response to, claims resulting from construction projects.

Quantity Surveying & Commercial Management
Award Consultants work with the client's management team to ensure the effective commercial management of construction projects.
When you need to outsource, to adjust to variations in workload, take on new projects or overcome internal resource issues, you can rely on Award Consulting to supply high quality, interim support to your commercial team.
Key functions include:
Cost Planning and Estimating
Procurement of the work
Post contract valuations
Post contract cost control
Final Accounts
Audit work
Forensic Quantity Surveying
Award Consulting can investigate historical events from commencement through to completion of the project, and establish due entitlement under the contract.
The analysis and investigation can often assist in the settlement of both final accounts and subcontractor accounts, resolving both entitlement and liability, and releasing value.
Claims: preparation and rebuttal
Final accounts: which are the subject of dispute
Programming & Delay Analysis
Award Consulting can prepare programmes in various formats for both pre-tender and claim scenarios. This work includes expert reports, for delay analysis.
Time analysis of projects in delay for extensions of time applications
As built programmes
Impacted programmes
Pre-tender programmes
Critical Path Networks
Contractual Advice
Getting the right advice on contractual issues is fundamental to the short and long term success of your business.
Award Consulting specialises in providing commercial and technical advice on the details and mechanisms of construction contracts to all our clients.
Our clients range from single employee subcontractors though to international contractors, no matter how large or small your organisation our aim is to provide a complete solution for your business needs.


Selection and preparation of contract documentation
Advice on issues throughout the contract process
Project Management
The appointment of a project manager can greatly ease the burden by providing a single link with the construction team. Award consulting are particularly well qualified by training, experience and above all by their overall knowledge of the whole construction industry to act as Project Managers.
Supervising the project from Inception to Final Certificate
Advising on buildability
Providing value for money appropriate to building use
Delivering the finished project on time and within cost constraints
Expert Reports
A very high percentage of civil cases settle without going to trial. This may give some indication of the potential importance of the expert's written report in helping an adjudicator or solicitor determine the strength and weakness of the case, and thereby the course of the dispute.
Award Consulting are highly experienced in the collection of evidence from project records and producing high quality reports for submission in construction disputes. Reports include the following:


Quantum
Delays
Extensions of Time
Loss & Expense
Dispute Resolution
In today's increasingly litigious construction industry dispute resolution is common place. Award Consulting's team of highly qualified professionals are able to advise and prepare documentation and advocacy to assist in the resolution of disputes. Our team are fully conversant with varying dispute resolution procedures, including:


Adjudication
Arbitration
Litigation
Mediation
Conciliation
Award Consulting Limited
Registered Office: 1-7 Station Road, Crawley, West Sussex RH10 1HT
Registered in England No: 05177996