our team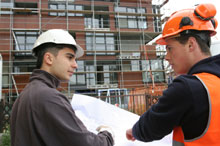 Tony Ward FCIOB, FRICS, MCIArb has over 20 years of experience in the construction industry. He is a Fellow of the Chartered Institute of Building, a Chartered Surveyor and Member of the Chartered Institute of Arbitrators. He has worked for contractors as a quantity surveyor and for professional quantity surveying practices.
The Award Consulting team consists of a further 16 construction professionals. The team has a high level and broad range of qualifications including Chartered Quantity Surveyors, Chartered Builders, and a non practising Barrister. Construction industry experiences range across Main Contractor, Specialist Subcontractor and Professional Practice organisations.
So whatever your problem, a solution is available that matches individual and team skills to your needs. To discuss your requirements and the solutions Award Consulting can provide please contact us and speak to Tony.
Award Consulting Limited
Registered Office: 1-7 Station Road, Crawley, West Sussex RH10 1HT
Registered in England No: 05177996